Grasshopper Room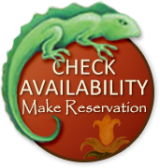 The Grasshopper Room
is a most charming standard guest room, perfect for a couples getaway. Grasshopper offers an exquisite accommodation hosting an open clawfoot bathtub with a drawn curtain, gas burning woodstove fireplace and very spacious private outdoor patio. The wet bar Vanity includes a sink and coffee service with a separate washroom with toilet and spacious standing shower.
Grasshopper can adjoin with
Cricket
for 2 bedrooms.
The Grasshopper Room Includes:
King Bed. Sleeps 2 Guests
Thermostat Controlled Gas Burning Woodstove Fireplace
Flat Screen TV & DVD Player
Open to the room clawfoot bathtub with drawn curtain
Wet bar vanity with coffee service, sink & hair dryer
Closet with luggage rack, iron and in-room robes
Private washroom w/ shower
Private outdoor seating area with breakfast table and umbrella
***This room does not have a mini-fridge.